Connor Schlichting, Analyst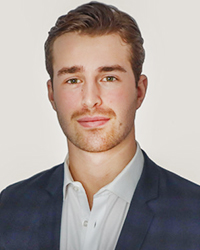 "Connor was an integral part of the Hockey Club both on and off the ice during his five-year tenure with our program in Sarnia. His work ethic and commitment towards getting better each day was second to none, and I would rank it amongst the best I have ever seen. He exudes character and professionalism in all avenues, and was always a key contributor and leader towards community involvement and the Sting fan base. Amongst his teammates, he was extremely highly regarded and respected. He was an obvious choice when we named him as one of our team captains during his final season with our club."
– Nick Sinclair, Former General Manager, Sarnia Sting Hockey Club, Canadian Hockey League
Connor is a skilled portfolio and security analyst with a diverse educational background. He recently earned a Bachelor of Commerce Honours degree from Ryerson University, where he majored in Economics and Computer Science. Connor has also completed level 1 for the CFA  certification, which demonstrates his dedication to the financial industry and his commitment to professional development.
Before attending Ryerson, Connor spent five years playing in the OHL for the Sarnia Sting. This experience allowed him to develop a strong work ethic and a competitive drive, which he has carried into his professional career. Connor joined ICM as an intern in the summer of 2020 and has continued to work part-time for the firm ever since. In December of 2022, he completed his studies and accepted a full-time offer from ICM.
During his time at ICM, Connor has leveraged his Python programming skills to make a meaningful contribution to the firm's technological platform. Specifically, he has assisted in a campaign to lead innovation in the areas of risk management, client service, and process automation. This work has allowed ICM to stay ahead of the curve in a rapidly evolving industry.
Outside of work, Connor is a trusted advisor to many of his friends in professional sports. He also lives a healthy lifestyle, which allows him to maintain his energy and focus on the job. With his diverse skill set, professional drive, and commitment to excellence, Connor is poised for a successful career in the financial industry.
Email: cschlichting@inukshukcapital.com
Telephone : (289) 380-2176