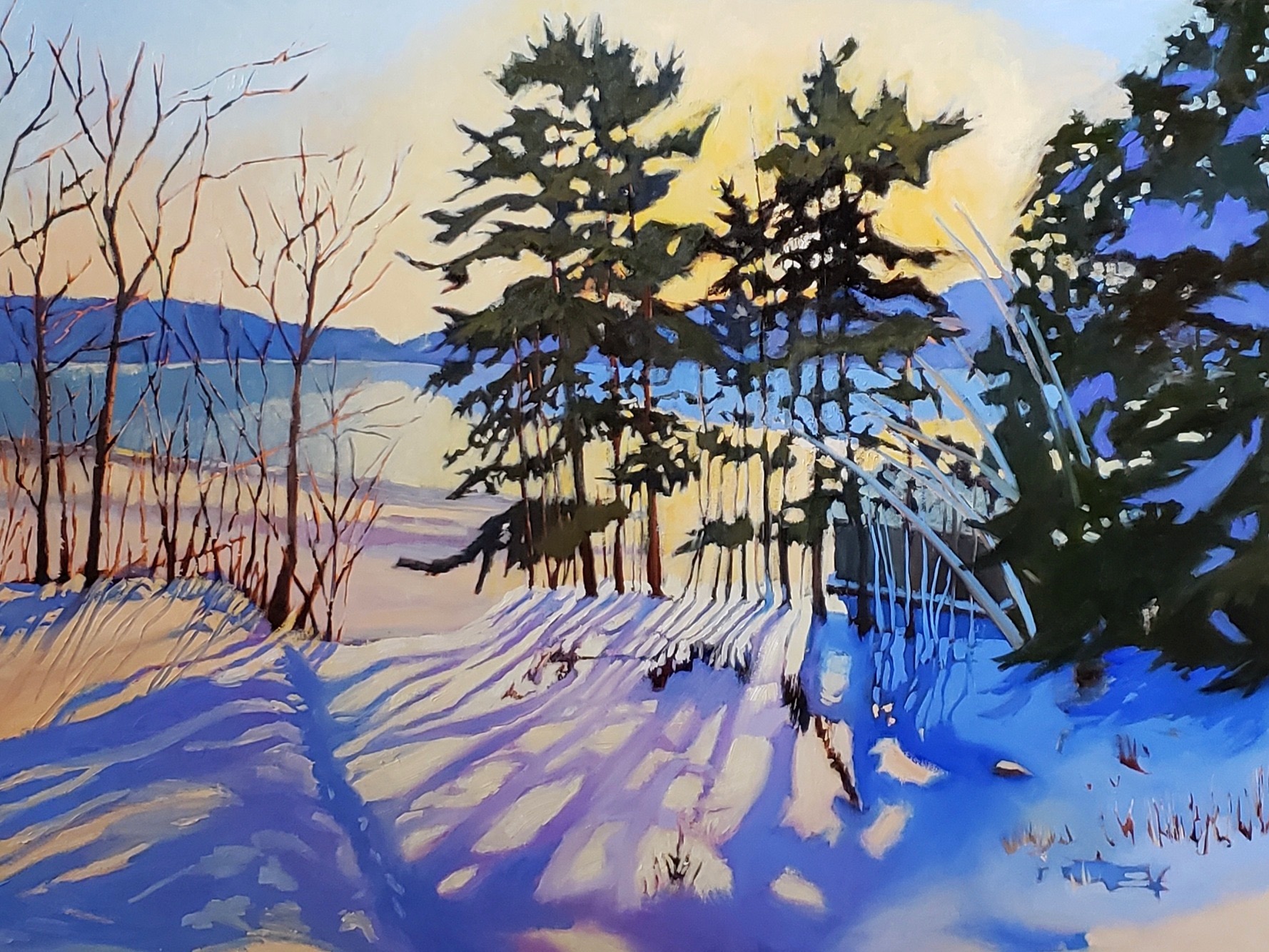 Instagram:@marikemacdonaldartist
We built Inukshuk Capital Management to serve the needs of clients looking for a unique approach – void of conflicts of interest, commission sales and pushed products. We began by putting our own money where our mouth is. With low fees and active risk management, we help families achieve financial longevity, that's the bottom line.
Stay up-to-date on the latest developments by following us on LinkedIn here.
December 2021- It's a Wonderful Life
In this issue:
Global Equity Markets
Wish List
Shopping List
Shopping for Unicorns
Webinar: 2022 Tech Trends – Innovations, Treats & Dirty Little Secrets
Health is Wealth
It's a Wonderful Life
GLOBAL EQUITY MARKETS
November was a disappointing month for stocks following some good performance in October. EM (Emerging Markets) are now down 4.4% on the year, thanks to the late November sell-off.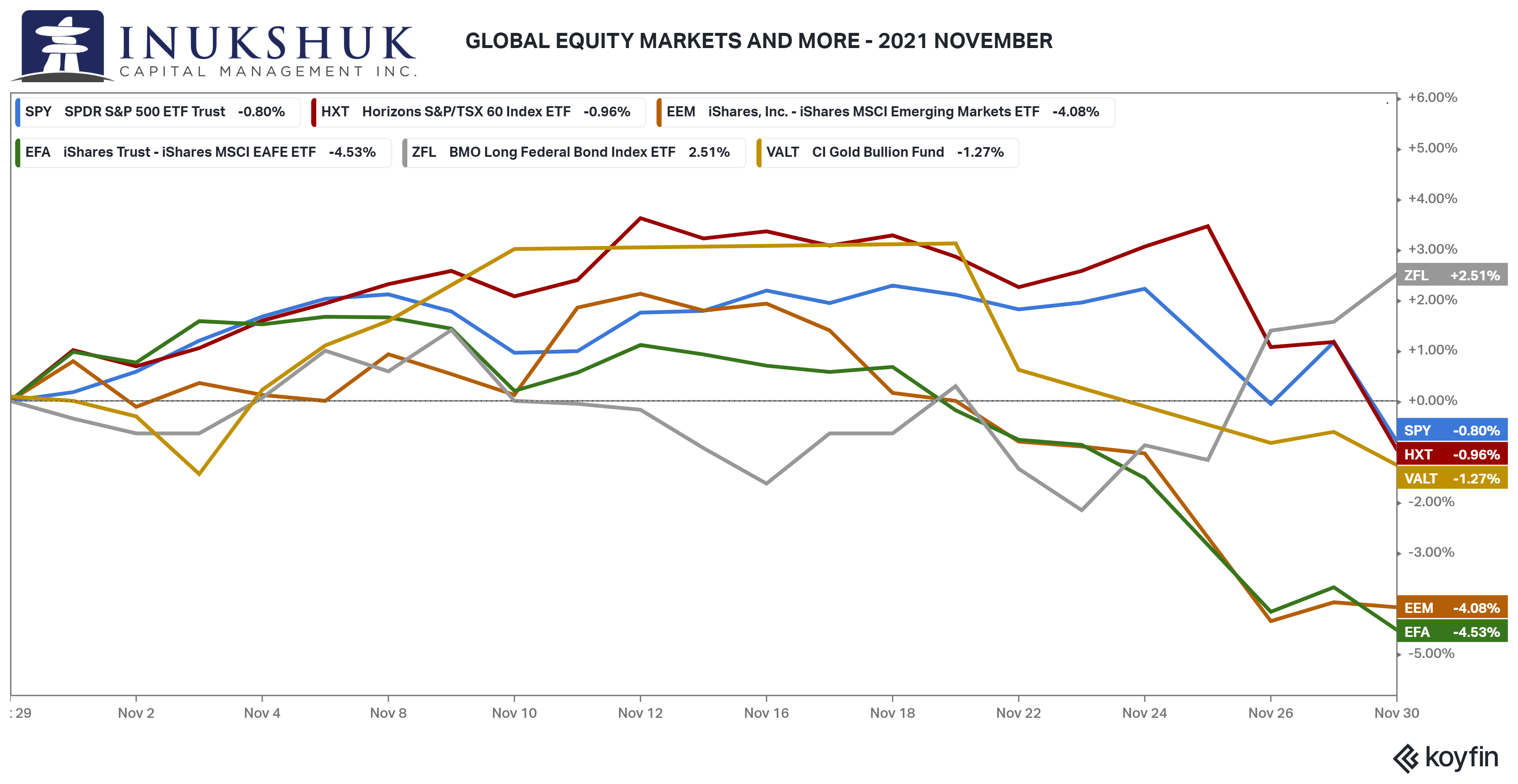 MSCI EAFE (Europe, Australasia & the Far East) hasn't budged since mid-February but is still holding onto the 4.8% gain it made in the first quarter of the year. Right now, it is at a critical level that is being tested for the fourth time this second half of 2021.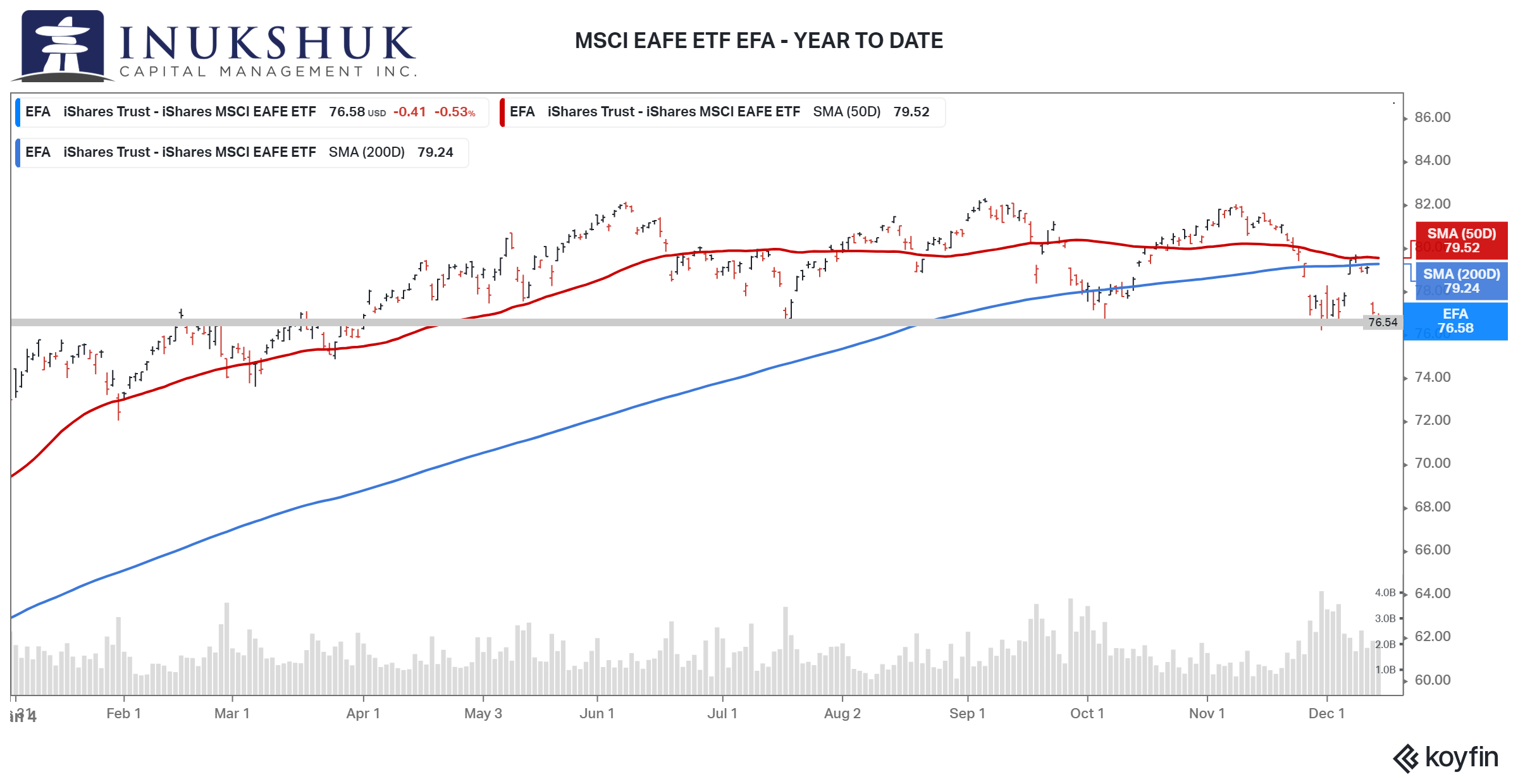 Let's return to the first chart and focus on bonds. 2021 has been one of the worst years in some time for bonds. Investing in an equity portfolio, balanced with bonds, is a traditional diversification strategy. Yet, this year, a cautious balanced portfolio's performance was dragged down by any allocation to bonds.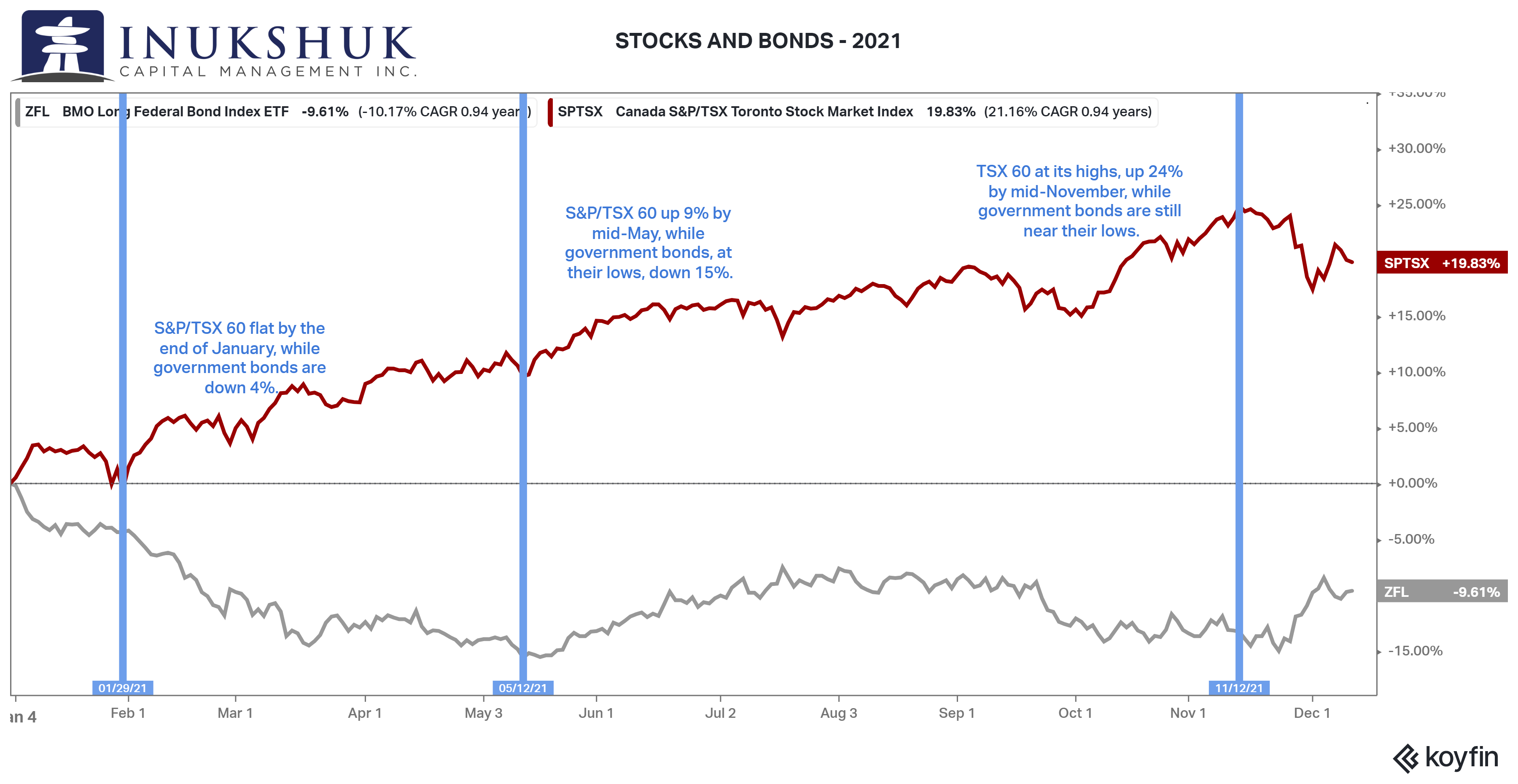 As you can see above, right out of the gate in January, stocks gave up early gains and bonds kept falling. Then, as the equity markets rallied, bonds fell further, down 15% by mid-May. Only recently, has the bond market showed some life.
If you were invested in the standard 60% stock 40% bond portfolio (60-40), after the first half of the year you would have had a zero return on your investment. And at the time of this writing it is likely that portfolio will have single digit returns for the year.
Our systems are still signalling caution in both EM and MSCI EAFE, which means our positioning in our active risk management programs remains the same – underweight EM and EAFE.
If you would like to stay current on our measures of trend and momentum in the markets we follow, please click here
WISH LIST
December is the season of giving gifts. And if you're looking for some, you've likely searched Amazon (AMZN). If you're old enough, you might remember when AMZN went public in 1997. It was broadly considered an online bookstore. In retrospect, it was a technology innovator disguised as a bookstore that quickly moved to being much more than a retail website. Kinda sounds like the storefronts of mobsters: You can grab a coffee and watch the game, but rumour is all the interesting and profitable stuff happens in the back.
A Forbes article from September 2020, titled How Amazon Quietly Powers the Internet, is a good quick read to understand what was happening in the backroom. The author estimates that, in 2020, one third of all internet traffic was running on Amazon servers.
For fun, let's look at some charts (at least, that's considered fun on our end, so bear with us). On May 15, 1997, AMZN went public at $18. After adjusting for all splits, this translated to $1.50. Not bad for anyone who managed to hang on to the stock for the last 24 years. The all-time high this past summer was $3,773. These charts are a story about investing, in general, and AMZN is an excellent example of the various roller coasters markets can, and will, make you ride.
As you can see in the chart below, AMZN made four successive higher highs in four years. After the first three, there were major peak-to-trough selloffs, also known as drawdowns, in excess of 50%.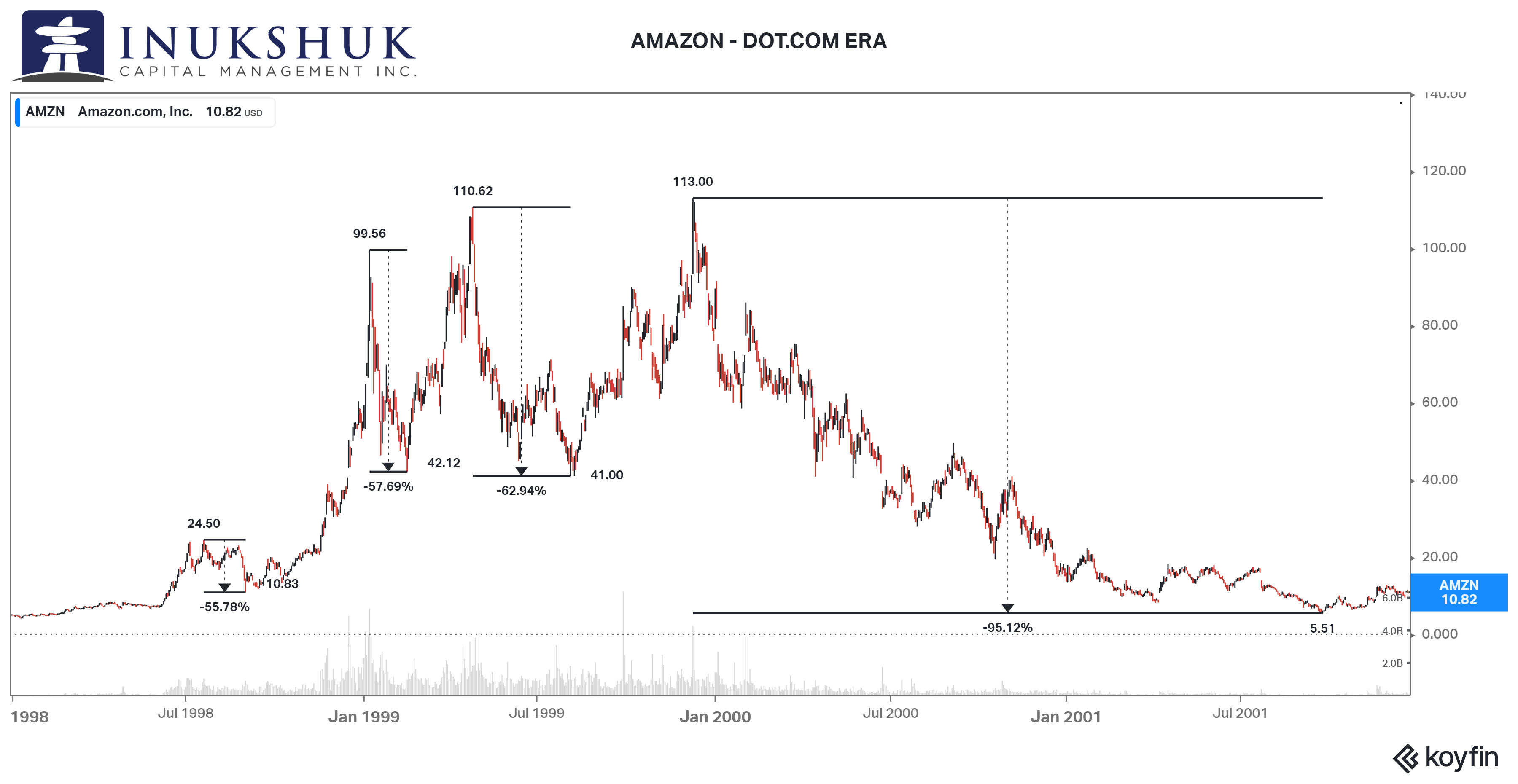 If you were invested in AMZN throughout this time, at the all-time high of $113 in December 1999, you might have thought you were an investing genius. HAPPY NEW YEAR. Unfortunately, if you didn't manage your risk, by the end of September 2001, those who held on with 'diamond hands', lost 95% of their money.
It's not all bad news. If you made like an ostrich for the next eight years and survived the financial crisis, by October 2009, AMZN made a new all-time high. Looking back, the DOT COM era is almost invisible.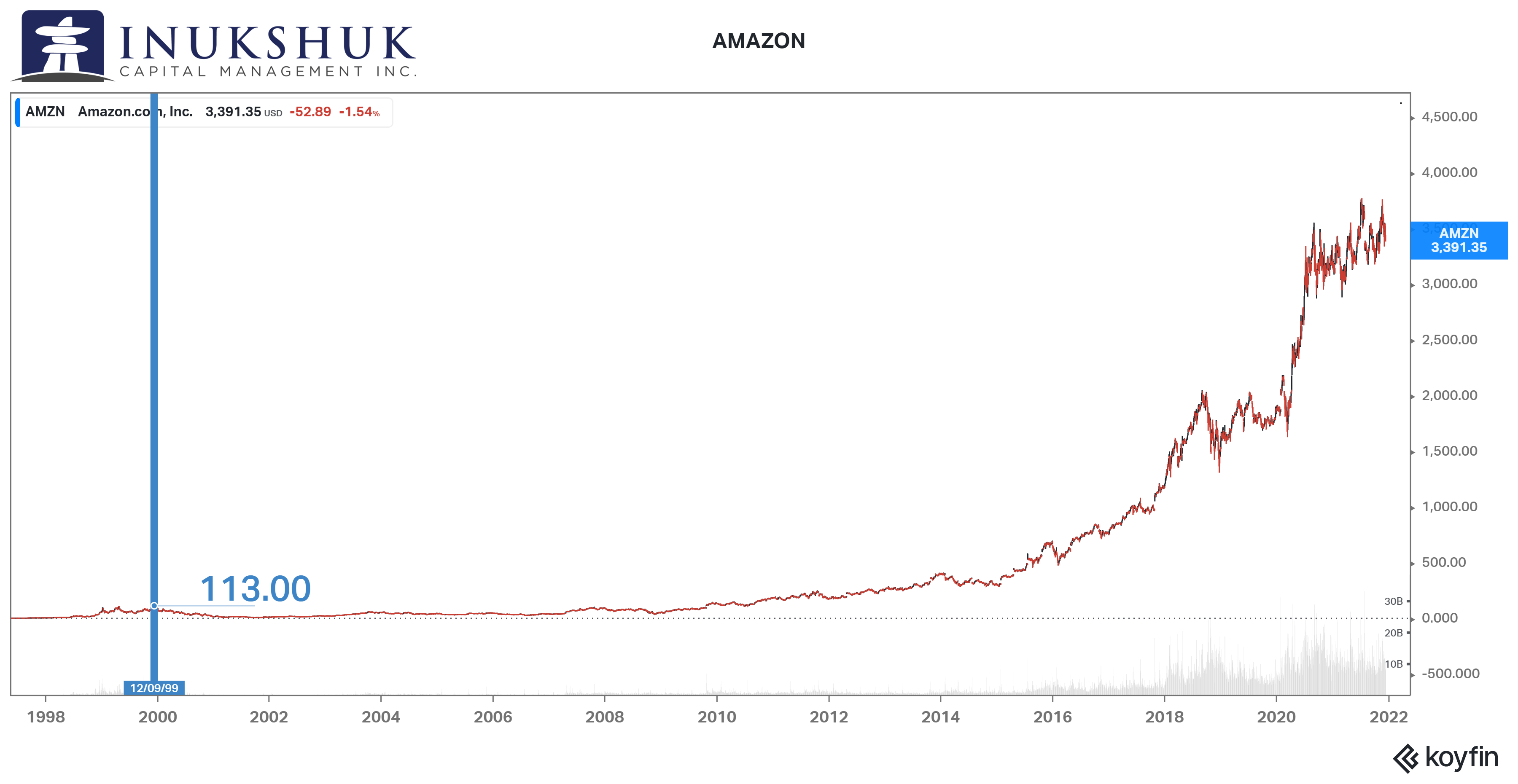 SHOPPING LIST
The reason for the charts above originated in the idea that this note would explore the latest consumer technology, available now – a wish list. After getting lost in charts (and all the cool things you can buy on Amazon), the following is a good example of what is happening.
If you Google the most secure mobile phone, the top hit is the Sirin Labs Finney.
Fun Fact: the name of the phone is the last name of the man who received bitcoin in its first transaction from Satoshi Nakamoto.
Sirin Labs is a start-up that launched a phone in 2016, targeted at the rich and famous with an original price tag of USD 16,000. After having little success on that front, they evolved into selling an equally secure phone with a much lower price of USD 999. This device has a proprietary operating system that runs on top of Android, with the added security features of:
Security software algorithms, which include behavioural-based and machine-learning systems in real time.
Physical security switch for wallet protection – the wallet being embedded crypto-currency cold storage.
Encrypted end-to-end calls and email.
Ok, so that sounds cool. It costs roughly the same as a high-end iPhone or Samsung, so if you are security conscious and a crypto investor, this might be the mobile phone for you. There's a problem though, it is sold out at the Sirin Labs store: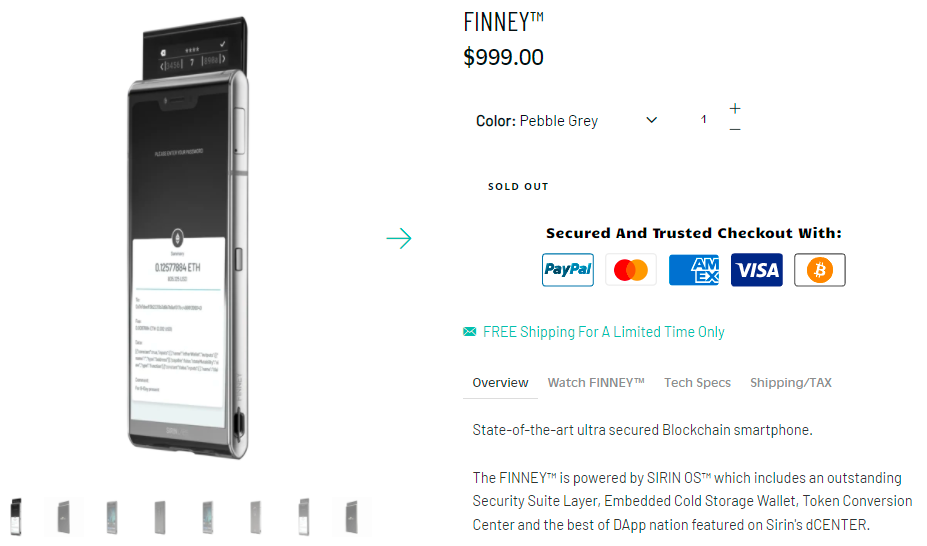 Notice they accept bitcoin as a payment method. Now let's go check out Amazon.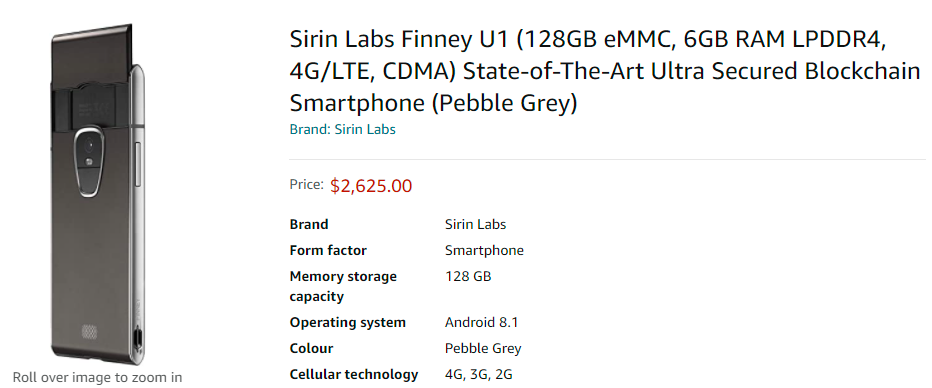 That is a Canadian dollar price, so the vendor is looking for roughly two times the price offered by the manufacturer. Markets work. It's no surprise this phone is available on Amazon. Remember though, that AMZN is more than simply a storefront and makes very little profit from their retail transactions. The technology this phone employs is in the realm of some of the most interesting things AMZN is doing on the R&D and deployment front.
This includes:
Blockchain
Virtual Reality
Machine learning
Quantum computing
Augmented reality
You may be asking what the point of this previous bit is if you are still reading.
SHOPPING FOR UNICORNS
If this narrative is making any sense, the idea is to find the next AMZN – or unicorn, as it's coined these days.
Our central concerns are:
There are hundreds of thousands of people smarter than us, researching and investing in the private and public markets to find these unicorns.
Single stock investing is not our style – price is more important to our systems than guessing about next quarter's earnings or the cash-burn of a company in its infancy. But we do make sector calls, if they are indexed.
Risk management is very important to us. So, diversification across sector, asset class, timeframe and style are things we do. We constantly rebalance to the targets of our portfolios. It is a proven method to buy lower and sell higher. This improves returns.
If this is our premise, then it is important to find what aligns with our investment process. Luckily, there is a Canadian ETF provider that offers a 'one ticket' solution. Evolve ETFs has a group of sector specific index-based exchange traded funds. Our portfolios have as a core holding the Evolve Innovation Index Fund, symbol EDGE. This ETF invests in an equal-weighted portfolio of eight key sectors in the innovation-driven world of technology. Each of these subsectors is benchmarked to an index. That means we rely on Evolve to meet that independent benchmark and we can manage the risk in our portfolios. Keeping in mind what AMZN is up to – here are the index sectors EDGE is invested in: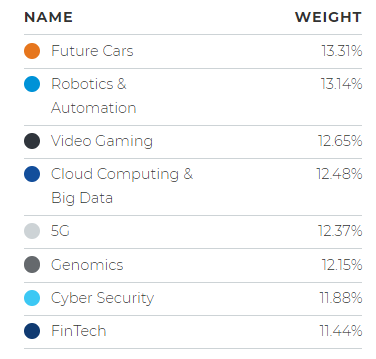 Cyber security, big data and machine learning are all part of the above discussion. If you find yourself with a Finney in your hands, don't forget that none of that can protect you from your own gullibility. In the New Year, we will be livestreaming an interview with one of the leaders in personal and corporate privacy, who knows his game and will surprise you with things you probably don't know. Short version, in this context: If you don't recognize the number, do not answer the phone, regardless of how fancy it is, security-wise
WEBINAR: 2022 TECH TRENDS – INNOVATIONS,TREATS & DIRTY LITTLE SECRETS
Speaking of cyber security, please join us on Wednesday, January 12, 2022, at 12:00p.m. ET, for a chat with Luigi Calabrese, president of Frontier Networks, about 2022 Tech Trends- Innovations, Treats & Dirty Little Secrets.
We will dive into some very interesting and timely topics
Active Hacking Scams – How they are doing it, why is no one doing anything about it, and what are the business drivers behind the 360% growth boom?
Artificial Intelligence – AI explained (what works, what does not, what are the best and worse commercial applications?)
Cyberattacks/Phish Threats – The No. 1 threat to government, large enterprise, and healthcare is nothing compared to the threat it poses to small/medium enterprises.
Is my NEST thermostat listening to me? Google and Facebook data collection explained
Click here to register.
HEALTH IS WEALTH
'Tis the season…
December is a month of celebration and can be a time of excess. It is the time of year we do less exercise when we should be doing more.
How do we get through holiday season missing workouts, indulging in "treats" … and not put on a few extra pounds? We prepare for it – that's how!
A couple extra pounds that seem harmless actually are, except for the fact that they add up year after year. And, as we "grow-up', they are simply more challenging to deal with.
One pound of fat is 3,500 calories, which means to lose 1lb of fat, (not water) a week, you must be in a caloric deficit of 500 calories a day. Then you must be able to keep it off!
Here are some tips that I use every holiday season.
If I can't commit to my scheduled workout, a brisk walk with my family and dog is a wonderful alternative.
If I have an indulgent meal or a few extra treats, I have a couple of days in a slight caloric deficit. That way, I really don't even notice it.
A litre of water and a small serving of protein or fat (small piece of cheese and or a few nuts) prior to my meal satiates me. Then I'm less likely to go back for seconds!
With a little bit of preparation and planning, the holiday season does not have to be a set back to our health and wellness goals.
Happy Holidays,
Victoria
'To sustain it, you must maintain it'
Victoria Bannister
ICM Health Ambassador
At Inukshuk Capital Management, we are firm believers in the connection between Health (physical, mental and spiritual) and Wealth.  Our ICM Health Ambassador is available to our clients for complimentary consultations.
Contact us for more information.
IT'S A WONDERFUL LIFE
It's been a while since this note referenced music. It's a Wonderful Life is a classic holiday flick many of you still reading will remember. The film is a good reminder of how lucky we are to live when and where we do, with the friends and family we have.
It's a Wonderful Life is also the title of one of the most critically acclaimed albums of the past 20 years, released in 2001, by the band Sparklehorse.
Fun Canadian connection: Guy Maddin, a Winnipeg filmmaker, created the video for the title song. 
The late Mark Linkous – the creative force behind Sparklehorse and its frontman – is a bit of an unknown in the popular music world. A unicorn, so to speak. It's a Wonderful Life was his top-selling record, garnering more than 63,000 in sales. One theory is that it is a response to his critics – a 'middle finger' type of reaction. That says a lot, right there.
Linkous and his bandmates were a loose group of musicians, who collaborated with other bands and musicians including: Radiohead, Tom Waits, Vic Chesnutt, Black Francis and David Lowery. If you haven't heard of them, check it out.
His dog, Jimmy Stewart, was named after the American actor who played lead in It's a Wonderful Life, connecting back to his song, and perhaps, love for the movie, so it's thought.
Lastly, Linkous was an innovator, a tinkerer, challenging people's ideas of what is good to listen to. All of this, and that, earns respect here at ICM
HAPPY NEW YEAR!
Have a question?  Contact us here.
Challenging the status quo of the Canadian investment industry.