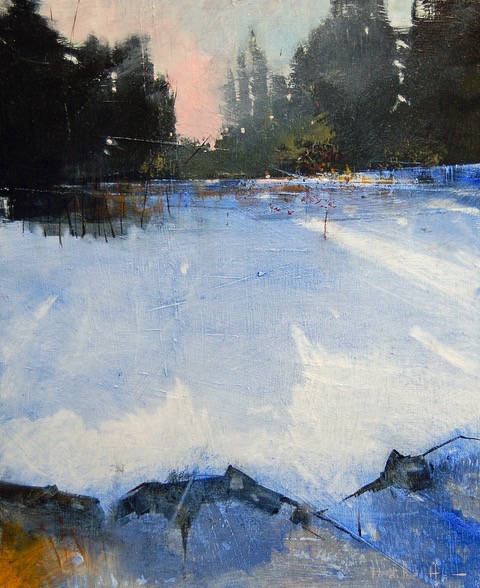 David Lidbetter
We built Inukshuk Capital Management to serve the needs of clients looking for a unique approach – void of conflicts of interest, commission sales and pushed products. We began by putting our own money where our mouth is. With low fees and active risk management, we help families achieve financial longevity, that's the bottom line.
Stay up-to-date on the latest developments by following us on LinkedIn here.
January 2022: Memories
In this issue:
Global Equity Markets
Memories

Nasdaq Analogs
Lightning
Money Humour

Health is Wealth
GLOBAL EQUITY MARKETS
December looked a little shaky as Christmas approached. After a difficult November for stocks, the major indexes managed a late month stick-save and rallied into positive territory.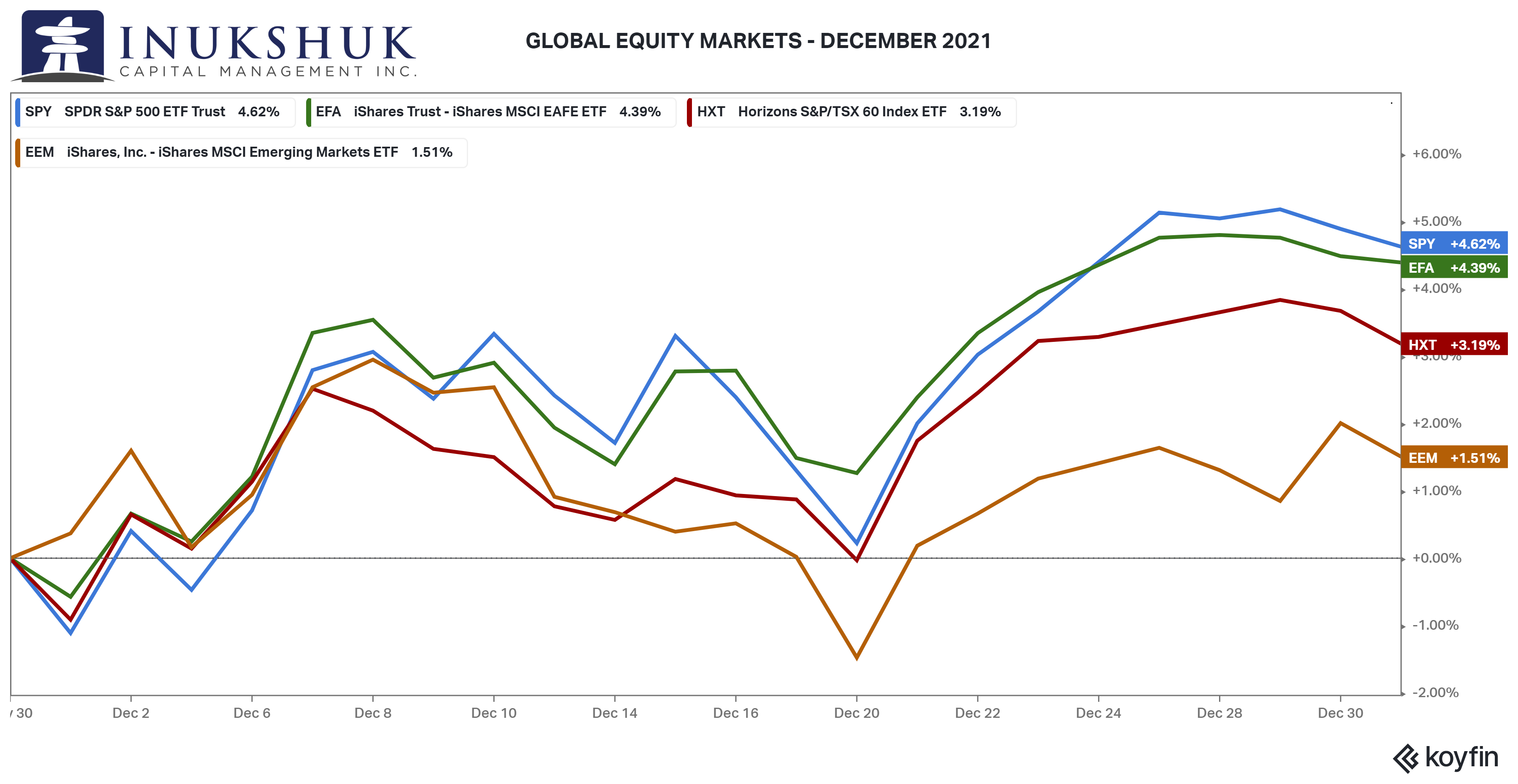 Our systems are still signalling caution in both EM and MSCI EAFE, which means our positioning in our active risk management programs remains the same – underweight EM and EAFE – although things are looking a bit more positive as of this writing.
If you would like to stay current on our measures of trend and momentum in the markets we follow, please click here
MEMORIES
It's always interesting to go back and look at what you were thinking when you wrote something or made a decision. And if you are involved in investing, it's actually very good practice to keep notes. This is especially important as you get older (personal experience PSA).
The following are a few observations selected from 2021 letters.
Nasdaq Analog – Same As It Ever Was – February 2021
We study analogs to see what may be possible. It is not something our systems use directly as a signal to buy or sell but these things are all related. If you accept the premise that the financial world changed around 2008 to 2009 and then again in 2020, it might be reasonable to look at what happened in the aftermath. Not on the way down, but on the way up.
As we compare the performance of the Nasdaq 100 this past year with its performance after the lows of 2009, bring some salt. These are thought experiments we might learn something from, not predictions – we'll leave prognostication to the talking heads.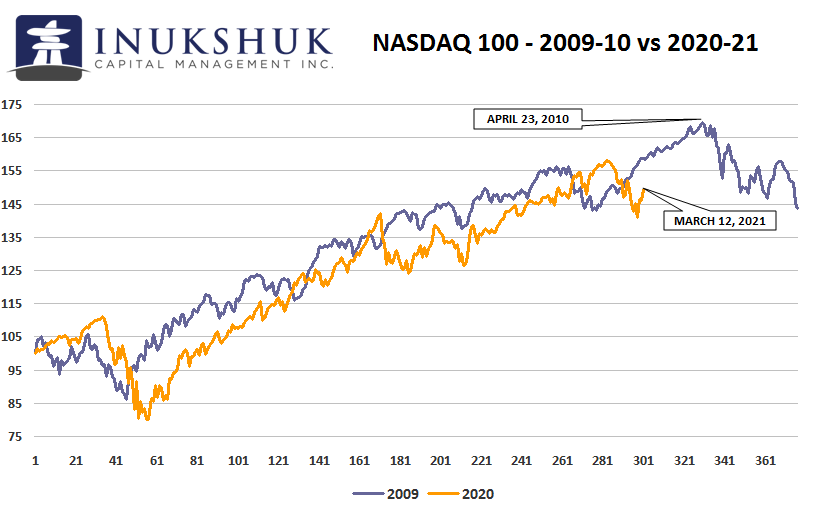 This is how it looks now.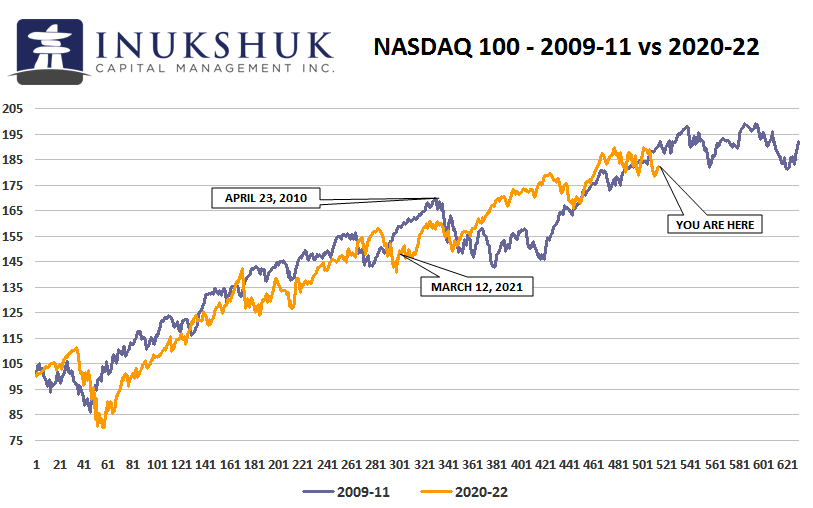 Like we said, take analogs with a grain of salt. But one observation: the current rally doesn't seem out of line with what happened after the financial crisis. Once again: this is not investment advice – it is a simple comparison over different timeframes.
Lightning Network – Please Allow Me to Introduce Myself – August 2021
This is where things get very interesting. The Lightning Network is the next layer of bitcoin. This is layer two that sits 'off-chain' on top of the bitcoin blockchain. Recall Web 2.0 and try to think in the same way.
The problem with bitcoin, in the sense of improving on the speed and cost of moving information (money) around the world is that, in today's terms, it is a bit clunky. But clunky might be a good thing if you were to build upon that foundation. Clunky can also be sturdy, heavy and maybe reliable. As the Terminator said in the movie Terminator Genisys: I might be older, but not obsolete. Ok, we have some sci-fi movie geeks in the house as well.
Due to the nature of humans in their constant need (want?) to improve things, while the old iron horse is fairly solid, we always seem to think there is a better way. At least as far as we know, from history – and yes, humans can and will take some of these 'improvements' to terrifying heights. The guess is, in this instance, this is not terrible.
The Lightning Network, as a layer over bitcoin, solves many problems that humans want to solve regarding the movement of money around the world. If the original open network is a bit slow and expensive to run, but the architecture is good in design and is solid, functional and robust, there is something to build on.
Like all networks, Lightning requires a kind of mass to make it work. The more nodes in a network the better it will function. Western Union didn't magically float dollar notes through the air so that crazy Uncle Market Plunger, who made a killing in U.S. Steel stock, could send his nephew Peter, in Schenectady a few bucks for his birthday. They had cash on hand. And if there were enough people sending and receiving dollars at any one location in the network, it might net out.
Maybe Auntie Shirley killed it at the horse races in Saratoga Springs that weekend and wanted to send her niece Agnes, at Syracuse, the same amount of dollars, so she could buy herself some pencils and something nice. So, Auntie went to the same storefront as the kid in Schenectady and put her money down. The resulting effect would be Western Union didn't have to have vaults of cash sitting at every Western Union storefront, just enough. This is analogous to how Lightning works.
This is a capture of the Lightning Network as of this writing.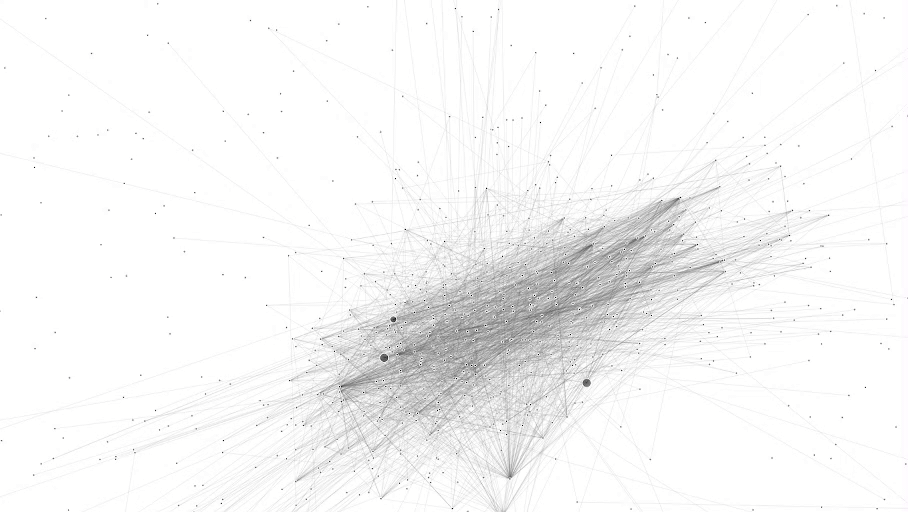 Source: https://1ml.com
The Lightning Network is in its infancy. Whether it survives is another story. But the baby is growing. Since September its bitcoin capacity has expanded 42%, which is one measure, along with links and nodes, of the growth of the network.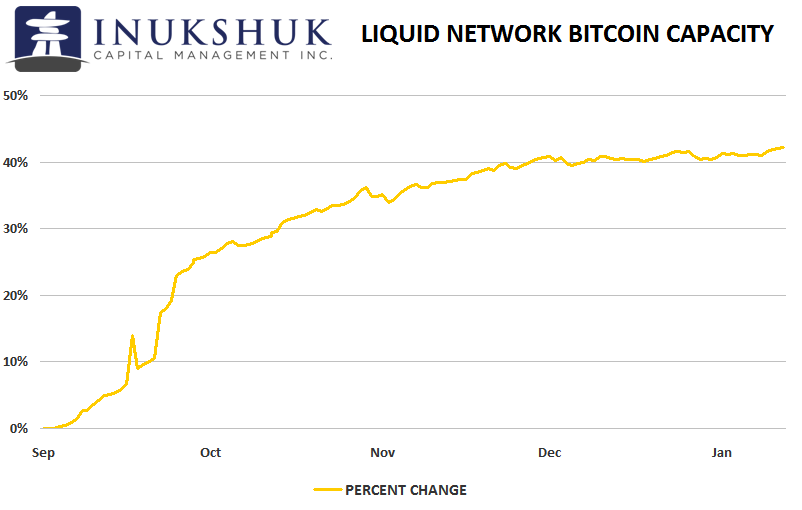 Source: LQwD Fintech Corp
As has been explained, networks are complicated – they rely on connections and nodes within that capacity. Who knows, but if people in developing nations can send and receive money with far less friction (costs and fees and convenience) than the current system, maybe this growth is not unreasonable.
Investment Advice – Money Money Money – September 2021
These two are from the late, great Norm Macdonald, one of the finest practitioners of comedy in history.
Portfolio management advice.

Overestimating the importance of your accomplishments.
A great comedian's observations on money are as legitimate as anything you can see on teevee.
A little bit of comedy, tech stock index experiments and layer two of the bitcoin blockchain are just a few of the things we discuss in these letters. Those are some of the highlights from our point of view. If you would like to read further and find other things you may be interested in – from music ideas to supply chains to portfolio asset mix analysis, we do it all – please check out the archive of previous letters here.
A tip for investors still seeking New Year's resolution: Avoid being the bunny and stay humble
HEALTH IS WEALTH
New Year's resolutions…
"This is my year!"
We all want to ignite positive changes in our lives, but despite the best of intentions, most of us will struggle to make good on our plans. According to a study published in the Journal of Clinical Psychology, only 46% of people that make a resolution successfully accomplish them.
The most popular resolutions regard: physical health, weight loss and eating habits.
Every January is the same in the fitness world. People come in fired up and ready to "get it," until they are completely burnt out or even injured. It's important to remember – you must sustain it to maintain it!
I always choose to keep it simple, especially early in the journey. Master the basics. Quality sleep, consistent meals with lean protein (fish, chicken, sirloin, tofu) and vegetables will help you stay fuller longer and eat fewer calories. And drink water, stay hydrated.
When it comes to exercise, I suggest following the SMART goal setting formula.
SPECIFIC – Set one goal at a time. "I want to lose weight."
MEASURABLE – Quantify it. "I want to lose 10lbs."
ATTAINABLE – Make it realistic, but still challenging. "I want to lose 10lbs, but I'm happy to start with 5lbs."
RELEVANT – It needs to be important to you. Define the personal value and benefit.
TIME – Calculate how much time can you realistically commit to your new program and, more importantly, understand that it takes time to achieve your new fitness goal.
Be kind to yourself.  Slow and steady for the win!
'To sustain it, you must maintain it.'
Victoria Bannister, ICM Health Ambassador
At Inukshuk Capital Management, we are firm believers in the connection between Health (physical, mental and spiritual) and Wealth.
Our ICM Health Ambassador is available to our clients for complimentary consultations.  Contact us  for more information.
Have a question?  Contact us here.
Challenging the status quo of the Canadian investment industry.