Lorrie Denysek – Director Client Experience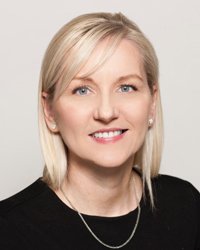 "We began working with Lorrie over 25 years ago. Since then, she has been a trusted friend and professional to us. She is thorough, honest and dedicated. It was an easy decision to move our business to ICM when she joined the firm. We are extremely happy and satisfied ICM clients."
– Cecilia and Michael M, ICM Clients
Lorrie is a seasoned financial services and wealth management professional with over 25 years of experience. Throughout her career, Lorrie has focused on building valued relationships and delivering a differentiated client experience for high-net-worth clients.
Lorrie's career began at Scotiabank, where she served as a senior personal lending officer. She later joined RBC in a senior account management role, where she led a sales team that provided a high-touch service offering to a VIP banking portfolio. During her time at RBC, Lorrie held various senior roles, including financial planning, training, project management, and sales effectiveness. Prior to joining Inukshuk Capital Management, Lorrie served as Vice President, Strategic Initiatives with RBC PH&N Investment Counsel. In this role, Lorrie was a member of the firm's senior management team and Operating Committee. She chaired the firm's Support Team Advisory Board and sat on the Diversity & Inclusion Committee.
Lorrie has been a strong advocate for women in the workplace, and she was a member of the steering committee of RBC's Women in Wealth Management. She has used her influence and experience to create a more inclusive environment and promote gender equity within the industry.
In addition to her professional work, Lorrie is an active volunteer with Parkinson's Canada, a cause that is close to her heart. Her commitment to giving back to her community demonstrates her deep-seated values and dedication to making a positive impact.
Email: ldenysek@inukshukcapital.com
Telephone: (647) 948-3048