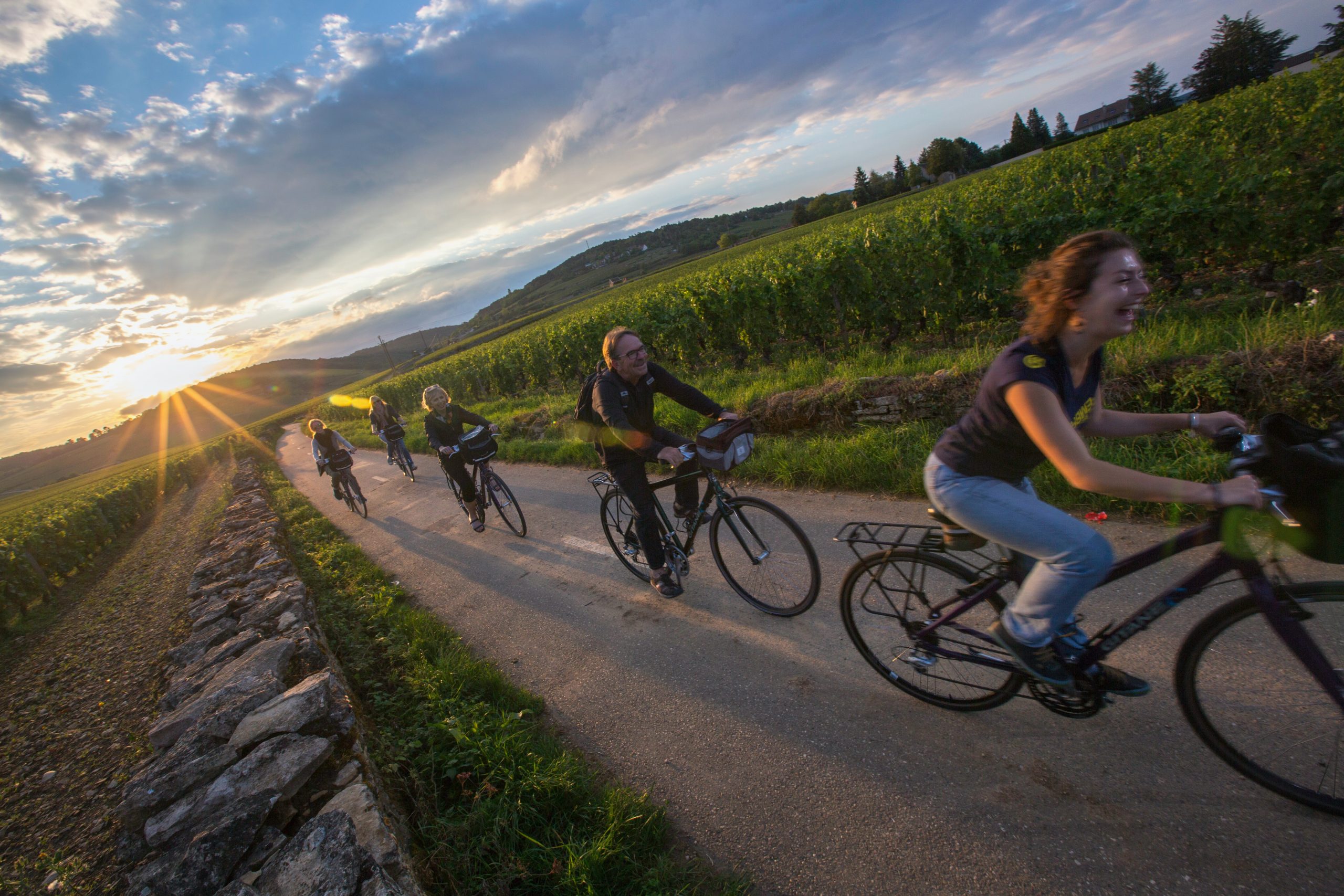 France Travellers Cycling Countryside
We built Inukshuk Capital Management to serve the needs of clients looking for a unique approach – void of conflicts of interest, commission sales and pushed products. We began by putting our own money where our mouth is. With low fees and active risk management, we help families achieve financial longevity, that's the bottom line.
Stay up-to-date on the latest developments by following us on LinkedIn here.
LONGEVITY WEBINAR EVENT
The Future of Travel: What travel will look like as the world reopens 
Wednesday June 23
12:00pm EST
Inukshuk Capital is pleased to present this unique opportunity to hear about post-pandemic travel from a global leader in social entrepreneurship, leadership, immersive travel and innovation, Bruce Poon Tip.
Bruce is the founder of Toronto-based G Adventures, the world's largest small-group adventure travel company and pioneer of community tourism.
Please join us as we chat to Bruce about what travel looks like as the world starts to reopen, and how we can all travel better on the other side of this pandemic.
May 2021- In Motion
In this issue:
Global Equity Markets
Memetics
Passengers
Health is Wealth
GLOBAL EQUITY MARKETS
'Sell in May and Go Away'… that looked like a solid plan in the first few weeks of the month. At one-point, Emerging Markets (EM) and the S&P 500 were down 3.6% and 2.8%, respectively. That didn't last long though, and by the end of the month, MSCI EAFE (Europe, Australasia and the Far East), the S&P/TSX 60 and EM were neck-and-neck with solid gains of close to 4.0%, leaving the S&P500 in the dust. This is a good example of how tricky these markets are.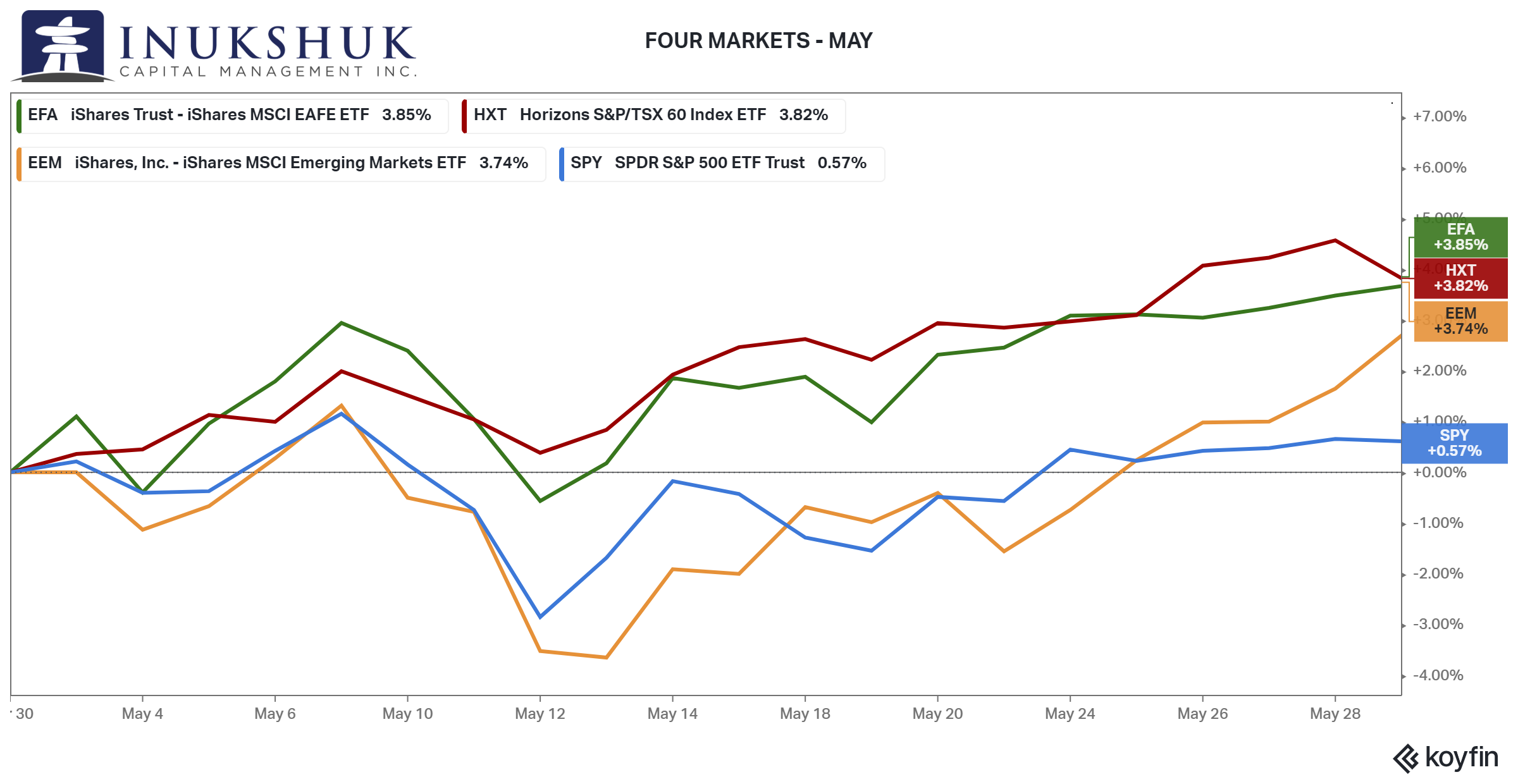 Although the S&P/TSX 60, S&P 500 and MSCI EAFE made all-time highs in May, this isn't translating across other sectors underlying these indexes. The high-flying Nasdaq 100 was down 1.5% in May and small-cap stocks in the U.S. have been drifting sideways since February.
ICM's positioning across global equity markets has not changed. Our active risk management program has had no position in MSCI EAFE since mid-February and the smallest long position our systems allow in EM, since the first week of April. Allocations to the S&P 500 and S&P/TSX 60 remain at 100%.
If you would like to stay current on our measures of trend and momentum in the markets we follow, please click here.
THE MEMETICS OF MARKETS
Thirty-five years ago, Richard Dawkins, an evolutionary biologist at Oxford University, wrote a book titled The Selfish Gene in which he introduced the word "meme". This book was listed as the most influential science book of all time, in 2017, by the Royal Society—the oldest national scientific institution in the world, founded in 1660. His fundamental theory of evolution is based on the idea of genes as metaphorically 'competing' to succeed in the same way that Darwin  described the idea of natural selection and how that relates to the evolution of species.
Extending that idea to the cultural and intellectual realms of human development, Dawkins coined the word meme. Something he described in a 2013 interview in Wired as:
In the original introduction to the word meme in the last chapter of  The Selfish Gene, I did actually use the metaphor of a virus. So when anybody talks about something going viral on the internet, that is exactly what a meme is and it looks as though the word has been appropriated for a subset of that.
There is much academic debate regarding the validity of this idea. But who cares? The kids don't and memes have gone viral, attached to specific images that are created and repurposed by  generations that don't know what the world was like before the interwebs. That might be called 'proof of principle'.
Recent attention focuses on how the memes of Reddit are impacting markets. We talked about GameStop in a previous note and mentioned how the cryptocurrency, Dogecoin, is being used as a payment vehicle by a Canadian company for SpaceX to send a satellite to the moon on their behalf. If you're not familiar  with Dogecoin, here are some quick facts:
It was created eight years ago as a joke by two software engineers, who were mocking the proliferation of cryptocurrencies.
Dogecoin's mascot is a Shiba Inu, and its  image turned into a meme that could be used to express all kinds of ideas.
The hilarious thing is, not only was the Dogecoin cryptocurrency created as a joke, but that its name is based on a misspelling of the word 'dog'.
Elon Musk is promoting Dogecoin and now its market capitalization sits at just over USD 40 billion.
The Dogecoin website describes its worth as 1 Dogecoin = 1 Dogecoin. Not misleading in any way.
Here's the original doge and the Dogecoin logo.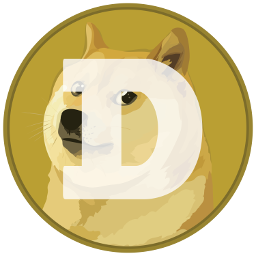 A good question to ask at this point is: what does this have to do with anything we care about?
The answer relates to what is occurring in the 'real world'. A very good illustration of this are the challenges that arise when determining what anything is 'really' worth. A market provides that information—something is worth whatever someone else is willing to pay for it. This seems pretty simple, but it's actually quite complex. Human beings need an understanding about why something they purchase is worth anything more than their ability to make use of it. See the housing market in Canada for another real asset case of confusion.
Since we don't invest in houses, let's look at what this means for what we actually do invest in. The Russell 2000 is the definitive small-capitalization index in the U.S. It is a core holding in many of our portfolios. With recent meme-based promotions two of the top-three companies in the index are now GameStop and AMC Entertainment Holdings (AMC).
Right now, AMC has a market valuation of roughly US$24 billion with over US$5 billion in long-term debt. As recently as the fall of 2020, the stock traded at around US$3 and earlier in the year was considered a classic bankruptcy candidate. AMC is the largest movie theatre chain in the world. The pandemic should have killed it, but on June 7 it closed at US$55 after trading over US$70 the previous week. The more interesting thing is—AMC has managed to sell stock into the market and has raised more than a billion dollars this year. This allows it to manage the capital structure of the company and reorganize. Are Reddit meme traders the new workout specialists for troubled companies in supposed legacy industries
It may be that the younger generation of stock traders and investors are acting in a way that older investors do not understand. But pools have been around ever since there were markets. If you would like to read further about pools click here for a letter we wrote earlier this year. Access and ease-to-trade anything that moves has never been easier, while at the same time communicating in 'real time'. It's clear that the gatekeepers of finance do not care for this behaviour and are trying to paint it in the worst light. That's what gatekeepers do. They may be correct; that billions of dollars will be lost, and thousands of financial lives will be ruined. It has ever been thus. The thing is, we don't know. Follow the money. But the biggest losers so far have been 'sophisticated' hedge-fund managers.
PASSENGERS
We wrote about commodities last month and that trend seems intact. Oil prices have been moving higher, which  supports the primary components of Canada's major equity indexes. We don't claim to be energy experts, but it seems, in this recovery phase, with the idea that life might get close to 'normal' again, is part of the equation. Maybe AMC is getting a bit of a boost from the same ideas—using reopening as a meme and theme.
Parts of our portfolio are benefitting from these trends with ideas that are expressed in price. Odds are good that the world will be closer to what it was before, within a year. Already, many parts of it seem to be getting back to normal. For example, the Texas Rangers are leading the league in average fans per game this season at 27,000. This is higher than in 2019. Daily new case counts in Texas that were over 23,000 in January have declined to less than 1,200 in a population of 29 million. The Blue Jays are in last place in average attendance at 2,200 because they are not permitted to play at their home field. Daily new cases have declined in Canada from the recent April peak of 8,700 to 1,500. Canada's population is 38 million, so the per capita daily new case count is almost exactly the same in both instances. For now, the closest we can get to a ballgame is on a screen.
Canada, for various reasons not to be explored here, has yet to experience the joy seen south of the border as 'regular' life returns. That does not mean it won't happen. Despite all of the tragedy and waves of illness, there is a good chance things will be much better soon.
Now, an aspiration of many who have been locked up for more than a year is to travel. Get out. Do things they haven't been able to do. This observation, in no way ignores the absolute personal and economic devastation experienced by much of our population, but it is something that is being anticipated by humans and therefore, markets.
Iggy Pop released the song The Passenger as a B-side to the only single, Success, from his Lust for Life album in 1977. It features David Bowie on piano and backing vocals, but at that time didn't receive much attention. Re-released 21 years later, it became a hit,  and is now one of the most featured songs across all media including movies, advertisements and video games. If anyone said that was going to happen 30 years ago, it would have been a joke. Kinda like AMC being able to refinance itself this year; or the success of a virtual coin named after the misspelling of dog.
Oh, the passenger
How, how he rides
Oh, the passenger
He rides and he rides
He looks through his window
What does he see?
He sees the sight of hollow sky
He sees the stars come out tonight
He sees the city's ripped backsides
He sees the winding ocean drive
And everything was made for you and me
All of it was made for you and me
'Cause it just belongs to you and me
So let's take a ride and see what's mine
If possible economically and practically, exploring and visiting places we haven't been able to over the last year appears to soon be something we'll enjoy in reality. This reopening after the lockdown should also relieve some of the anxiety and stress that has accumulated since last March.
Whether you like to ride a bike or be a passenger, or a little bit of both, get out there when you can.
HEALTH IS WEALTH
'To sustain it, you must maintain it.'
Victoria Bannister, ICM Health Ambassador
While the reopening after the lockdown should reduce some of our accumulated anxiety and stress, we may also need to relieve any muscle tension that has built up while working from 'less-than' ergonomic home offices for more than a year.
Here's a video I put together with some tips and stretches to help get you moving again, so you'll be prepped to get back out there, pain free.
At Inukshuk Capital Management, we are firm believers in the connection between Health (physical, mental and spiritual) and Wealth.
Our ICM Health Ambassador is available to our clients for complimentary consultations.  Contact us  for more information.
Have a question?  Contact us here.
Challenging the status quo of the Canadian investment industry.